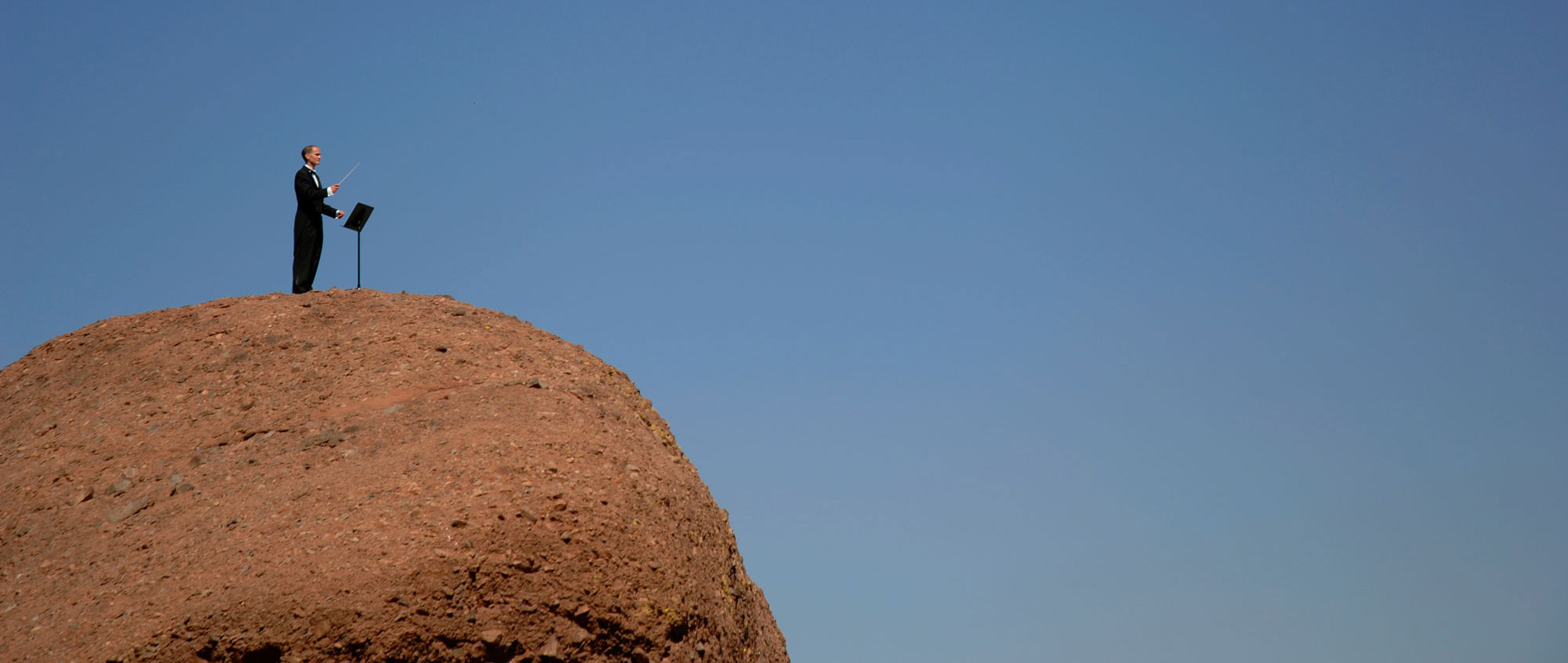 In Perfect Harmony
LAN and WAN
Copper or Fibre
Wirespeed
Measurement & Verification
On-demand testing, RFC2544 & Y.1564
'Always On'
SLA Monitoring
Remote Management
& Alarming
Common Networking Challenges
Has our Telecoms Service Partner provisioned my new network link to the agreed specification?
How often are we experiencing Outages and what is our percentage downtime throughout the network?
Is my network latency and jitter within tolerance for my VoIP services?
If we commission our new Video Streaming service between New York & Frankfurt, what will be the impact on other services currently running?
Does the Performance of our Network vary with time of day or across the month?
Our Solution
A comprehensive set of tools for Network Performance Assurance, performing both 'out-of-service' testing and 'in-service' background monitoring of your LAN and WAN connections up to 10gb.
Efficient networks are crucial to servicing the many bandwidth hungry "mission critical" applications that are used in modern organisations. Largely due to their personal experiences with domestic Internet provision, users are quick to point the blame for any perceived reduction in application responsiveness firmly on "the Network", so it is important that real network issues can be isolated and resolved quickly.
Since Ethernet is inherently non-deterministic, monitoring and management of actual performance levels, particularly latency and jitter which are critical to modern VoIP and Video applications, is a real challenge when compared with earlier generation connection-oriented PDH/SDH infrastructures. Particularly in the case of multi-carrier networks, it is difficult for the Enterprise IT team to know whether they are 'getting what they are paying for' in terms of defined 'Service Level Agreement' (SLA) for key network characteristics including throughput, packet-loss, latency and jitter.
By deploying Metrodata's embedded, always-on Test and Monitoring devices, standard test profiles including RFC2544 and/or Y.1564 can be instigated 'on-demand' at any time between any points in the network, with results monitored remotely, in real-time, directly from the Network Operations Centre (NOC). Whilst ideal to verify new link implementations or for troubleshooting purposes, during normal operation such tests are inappropriate. During regular in-service usage, Metrodata's minimally invasive background test functions can be enabled to pro-actively monitor key links throughout the network. Alarms are sent directly to the NOC in the event of a breach of pre-defined SLA parameters, immediately alerting Operations staff to the need for further analysis.
NetTESTER
The NetTESTER family offers a range of powerful & versatile Ethernet network test and monitoring capabilities for the Enterprise sector. Intended for 'always-on' deployment at key points throughout the network, NetTESTER represents a new paradigm in Performance Assurance.
Most frequently deployed at locations throughout a multi-site Wide Area Network, NetTESTER devices may be installed either directly in the 'data path', between for example a Service Provider's WAN termination point and the Enterprise's own LAN equipment, or simply on any convenient Switch or Router port within the LAN. In the former case, NetTESTER units are fully transparent to user traffic and yet perfectly positioned for test, monitoring and impact analysis applications. In the latter, whilst not directly in the data path between LAN and WAN, NetTESTER is ready 'on-demand' for test-traffic generation, loop-back and analysis of traffic performance to/from any other similarly equipped site within the network, and can provide 'always-on' background monitoring and alarming in the event of performance degradation relative to pre-defined threshold criteria.
The NetTESTER (each available with a variety of PSU options for flexibility and resilience), include Metrodata's custom 'MetroSAM' (Service Assurance Module) hardware for test-traffic generation and loop-back, supporting industry-standard test profiles RFC 2544 and ITU-T Y.1564, for both Layer-2 (Ethernet Switched) and Layer-3 (IP Routed) environments. Each device also supports background monitoring via standard protocols including ITU-T Y.1731, for Ethernet Switched environments, and TWAMP ('Two-way Active Measurement Protocol'), for IP-Routed infrastructures.
Users access the NetTESTER either via a local terminal/emulator, or more normally remotely across the network from a Management console application via Telnet/SSH or Web Browser, to configure and instigate test procedures or to monitor results. In the case of background monitoring, SNMP 'TRAP' alarms are issued in the event of a breach of pre-determined performance threshold parameters, including throughput, delay (latency), delay variation (jitter), packet-loss, and overall 'uptime'.
Embedded Test & Monitoring

NT1003 Network Tester
2x port 10/100/1000BaseT
1 port 100BaseFX/1000BaseX (SFP)
AC / DC PSU

NT1005 Advanced Network Tester
4x LAN , 1x WAN 10/100/1000BaseT
1x WAN, 1x LAN 100BaseFX/1000BaseX (SFP)
AC or DC or Redundant failover PSU

NT10G05 10Gb Advanced Network Tester
4x LAN , 1x WAN 10/100/1000BaseT
1x LAN, 1x WAN IEEE802.3ae 10GBaseSR, 10GBaseLR, 10GBaseER
Dual Redundant or Mixed Power Supply (AC / DC)
Complete transparency to regular traffic when embedded within the active data-path
Copper and fibre physical connection & traffic monitoring, up to 10Gbps throughput
SFP DDM statistics and option for integrated & automated 'OTDR' fibre fault location reporting
Embedded test traffic generation, loop-back & analysis, accurate to micro-second resolution
RFC2544, ITU-T Y.1564 and 'custom' test profiles, for both Layer-2 (Ethernet MAC) and Layer-3 (IP) traffic
SNMP data-retrieval support for monitoring/charting of key data over extended time-periods at NOC platform
'Always On' SLA Monitoring
Delay (latency) and delay-variation (jitter) monitoring via ITU-T.1731 and TWAMP-lite
Alarming in the event of pre-defined 'Service Level Agreement' (SLA) breach such as, for example, latency growing above a specified threshold
Overall network visibility, configuration/management access and alarming via Management Platform
Management via local terminal or remotely via Telnet/secure SSH or Web Browser application
TACACS+ for management user authentication
Comprehensive alarming with support for SNMP 'TRAP' alerts to NOC platform(s).
About Us
Metrodata Ltd. is a leading vendor of Telecoms equipment, with a particular focus on Network Access and Interface Conversion Applications.
Metrodata has been a supplier to Telecoms Service Providers, Corporates and Governmental organisations since 1989. The company's products are designed and manufactured in the UK and are dispatched to customers worldwide from Metrodata's facilities nearby London's Heathrow airport.
Major product ranges include the MetroCONNECT family of Managed Ethernet Extension and Demarcation solutions and MetroWAVE family of passive CWDM & DWDM Optical Multiplexers.
With NetTESTER, Metrodata applies its experience in Multi-level Ethernet Network Testing and Monitoring to a range of embedded, 'always-on' Performance Assurance solutions for the Enterprise marketplace, featuring remote configuration and management, comprehensive status reporting and dynamic health alarming.
Alongside its wide range of interface and fibre conversion products, the company also applies its deep expertise to undertake specialist and bespoke developments for organisations particularly in the Governmental / Military, Utility and Transport infrastructure sectors.
Resources
Enterprise Network Performance Assurance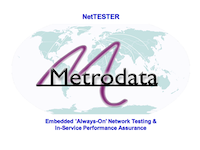 NetTESTER Presentation